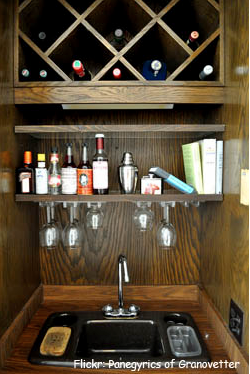 The onset of the holiday season also signifies the transformation of home-sweet-home into home-sweet-hotel for many of us. Whether the guests are close family, friends, or in-laws, it is our duty to make sure that their time in our home is as sweet as the presents they plan to leave underneath our tree. And, a spirited holiday beverage goes a long way in warming up cold bones and bringing people together. Though you can make it through most of the festivities utilizing a dry bar and kitchen sink, often times that kitchen gets crowded with hungry kids and cooks, and so making a quality cocktail turns from pleasure to tedious chore. The easy solution: construct a wet bar in a separate area and you'll soon be the man of the hour, crafting tasty libations at the bar built with your own two hands.
Location, Location, Location: Obviously the primary task, and arguably the toughest, is going to be finding the perfect place to put the bar. The first thing to consider is putting it close to one of the home's key social areas, be it the living room, game room, or dining room. Keeping it central to the action will ensure that the drink making flows along with the socializing and you won't be spending time isolated in some lonely corner of the house crafting drinks while others are off having a good time. The second thing to consider is placing the bar close to an existing water line to save yourself the trouble of having to install a new one. Most often water lines will be found next to bathrooms and laundry rooms so the ideal placement would be right next to one of these spots. Or, it could even be on the inside wall opposite an outdoor garden faucet. Now you're thinking. Of course, then you'll only get cold water, but it could still work.
Buying the Goods: The next step is actually going out and picking up the physical goods to put this thing together. If you have a knack for carpentry, assembling the cabinets yourself is always going to win you a few more bragging points; otherwise, save yourself some time and buy a premade kitchen-counter height bottom cabinet. Next comes the countertop and here you have a lot of options—from granite to tile to wood—the only real important factor being that the material can handle some moisture and abuse. Then the last main component is the sink and plumbing fixtures, and here you have a lot of options as well. Just be sure that the sink is deep enough to accommodate that giant Oktoberfest beer-boot and that the faucet is built to accommodate hot and cold water if you plan on running both through.
Putting it All Together: As far as installing the sink and water lines go, this part gets a bit trickier. Even for the most seasoned DIY'er, this step can be tough and might be best left to an expert as minor wall demolition is required and a slight error could serve you up a whole 'nother wall repair projectyou had no intention of taking on. Assembling the bar itself is the step we're interested in and this video from This Old House online serves as a great step-by-step guide on how to put it all together from scratch. According to their estimates, at a cost of about 425 bucks.
Cheers: Once the hard work is done, it's time to stock those shelves with some holiday spirit. Of course, when it comes to these liquid assets every man has his preferences and so there's no right way to do it, but seeing as it's sure to get some solid use this holiday season why not take a glance at these manly holiday drink recipes.
Here
is one more a step-by-step project to take a look at with start to finish visuals. If you do decide to take one of these on, come back and share pictures of your project here on the Fan Club. Good luck!

TIP: WD-40® Multi-Use Product is perfect for lubricating corkscrews to make sure those dry corks come out smoothly and the holiday festivities can continue.